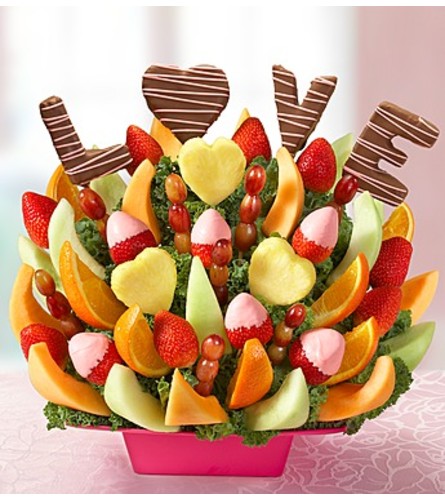 's Perfect Bouquet
Sweet Love Story™
---
Description
---
Every great love story should start with something this sweet! A fresh mix of plump strawberries, mouthwatering melon, juicy grapes and more surround dipped and decorated pineapples carved to spell out L-O-V-E. Share this deliciously original fruit creation with your Valentine and write your own happy ending!
Product ID 107336
Approximately 14"H x 12"L
What People Are Saying
---
Sun Flower
April 22, 2021
This is a hidden gem for sure! Cute Tea Room, Boutique , bakery and flower shop. Sits right in-front of an small airport. They have little vendor markets out front sometimes. The food was great. The deserts were amazing, zoom in on the pictures. The variety of tea was off the hook and the way they present it, just like a little tea room. Hot water, leaves, cups, honey is what I saw. And a timer to know how long to steep. The food was fresh and lots of Keto and gluten free options. Variety of Sandwich/Chips, soup ,salad choices. The boutique had some very cute gifts, candles , jewelry, just lots of cute stuff. They are also a full flower shop! Beautiful arrangements on display. They have a room they rent hold about 40 people, it's beautiful. They do offer catering. Very clean place, friendly staff. Very reasonable prices. If your in the area I highly recommend stopping in for a look and a bite and listen to some live music
Nancy Ojeda
April 15, 2021
I received the most beautiful arrangement as a gift yesterday. Just perfect! I have dealt with the owners numerous times and they are always professional and oh so kind. Good, good people!
Reviews Sourced from Google
You May Also Like
---