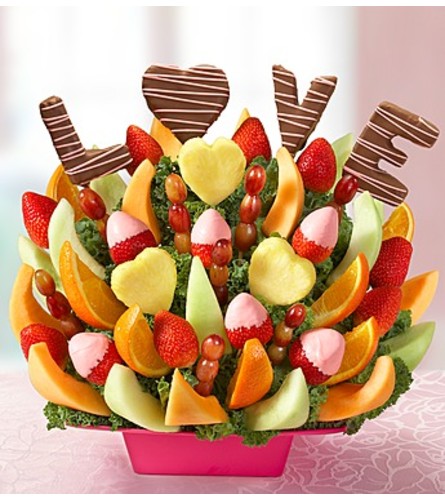 's Perfect Bouquet
Sweet Love Story™
---
Description
---
Every great love story should start with something this sweet! A fresh mix of plump strawberries, mouthwatering melon, juicy grapes and more surround dipped and decorated pineapples carved to spell out L-O-V-E. Share this deliciously original fruit creation with your Valentine and write your own happy ending!
Product ID 107336
Approximately 14"H x 12"L
What People Are Saying
---
The flowers were Absolutely beautiful and that special touch (bird) made it so special. Birds are my favorite and its almost like you knew me and my likes. I love it! Special thanks to Dorlin who took the time to create such a special floral bouquet for me. Its beautiful you cN tell she loves what she does it shows in her beautiful arrangements. Thank you all so much . Mary
Chef Mary Zavala
November 26, 2020
Absolutely beautiful bouquet, special thanks to Dorlin the amazing florist who knew exactly what I wanted. That special touch (bird) she added made it so special to me, I loved it so much ! Beautiful work done with love and care ❤
Great Service and even delivered the same day!
Reviews Sourced from Lovingly and Google
You May Also Like
---