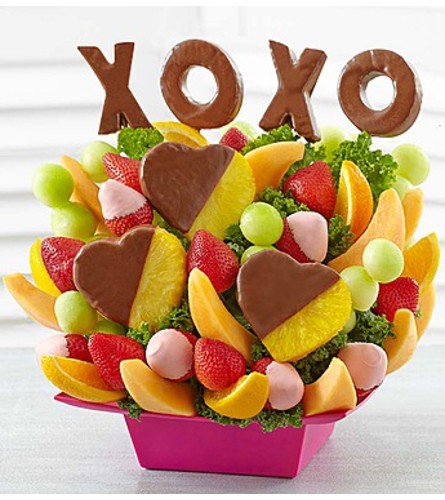 's Perfect Bouquet
XO Love at First Sight™
---
Description
---
The start of every new relationship should be celebrated with something this sweet! A fresh mix of plump strawberries, mouthwatering melon, juicy grapes and more surround dipped and decorated pineapples carved to spell out X-O-X-O. Share this deliciously original fruit creation with your Valentine and get your love story going! Fresh fruit arrangement includes dipped pineapples drizzled in pink chocolaty confections carved to spell out 'XOXO'; mini heart-shaped pineapples; strawberries; strawberries half-dipped in milk chocolaty confections; honeydew melon, cantaloupe & orange wedges and grape skewers
Product ID 142144S
Approximately 11.5"H x 12"L
What People Are Saying
---
The flowers delivered were not what I ordered nor expected.
LOVE EVERYTHING ABOUT THIS PLACE! ❤
I ordered last minute for my friend at like 3 pm and she still got it that same day! Thank you sooo much! It was so pretty and she loved them! And said the chocolates were amazing!
Reviews Sourced from Lovingly
You May Also Like
---