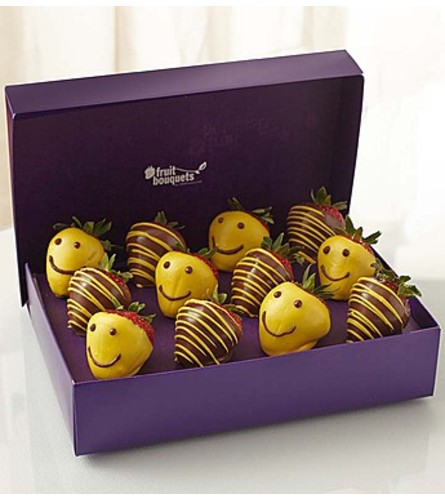 's Perfect Bouquet
Strawberry Smiles™
---
Description
---
What's the fastest way to make someone smile? You're looking at it! A dozen scrumptious, dipped strawberries flash festive grins to put the happy in someone's day—for a special celebration or no particular reason at all.
12 fresh strawberries; six dipped in milk chocolaty confection and drizzled with yellow-dyed confection, six dipped in yellow chocolaty confection and decorated with milk chocolaty confection to display smiley faces
Product ID 143624
Approximately
What People Are Saying
---
My friend likes the flowers very much. I am impressed that they delivered the flowers even in bad weather. Thank you!
So cute, I ordered this for a coworker while I was sick. She stepped up and took care of my work. She cried when she got it. She was touched and loved how cute it was.
Cant tell the difference between premium and standard. ugh. But over all, delivery same day and she loved them
Reviews Sourced from Lovingly
You May Also Like
---