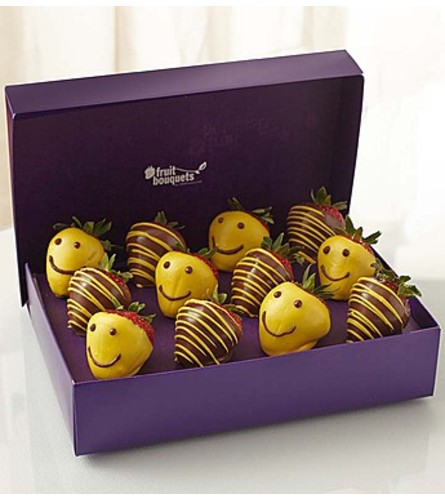 's Perfect Bouquet
Strawberry Smiles™
---
Description
---
What's the fastest way to make someone smile? You're looking at it! A dozen scrumptious, dipped strawberries flash festive grins to put the happy in someone's day—for a special celebration or no particular reason at all.
12 fresh strawberries; six dipped in milk chocolaty confection and drizzled with yellow-dyed confection, six dipped in yellow chocolaty confection and decorated with milk chocolaty confection to display smiley faces
Product ID 143624
Approximately
What People Are Saying
---
My Mom loved the beautiful arrangement! It was a perfect birthday gift! Thank you so much!
The flowers were delivered on time and the teacher themed container was adorable. Nice touch.
What a pleasure it was to order flowers from Garden of Eden Florist. My daughter loved the beautiful arrangement that included her favorite Stargazer Lilies. My teenaged grandson even commented about the amazing fragrance. And free delivery was an added plus.
Reviews Sourced from Lovingly
You May Also Like
---