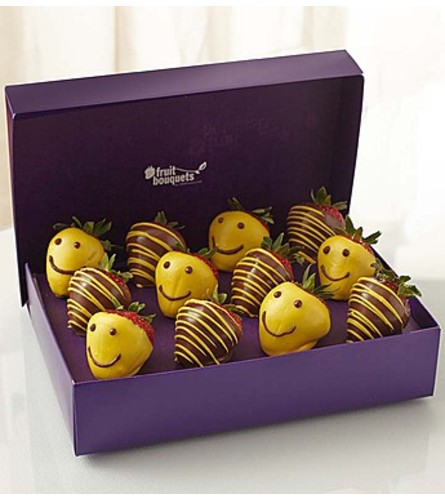 's Perfect Bouquet
Strawberry Smiles™
---
Description
---
What's the fastest way to make someone smile? You're looking at it! A dozen scrumptious, dipped strawberries flash festive grins to put the happy in someone's day—for a special celebration or no particular reason at all.
12 fresh strawberries; six dipped in milk chocolaty confection and drizzled with yellow-dyed confection, six dipped in yellow chocolaty confection and decorated with milk chocolaty confection to display smiley faces
Product ID 143624
Approximately
What People Are Saying
---
My Mom's birthday flowers were so beautiful. She loves them. The bouquet is so much more nicer than your typical online box shop. I HIGHLY recommend using Garden of Eden for your next floral order.
First time customer and I am well satisfied. The flowers and accessories were top notch, and the online ordering experience was easy to complete. I recommend Garden of Eden highly, and will use them again myself.
Same day delivery! No problem with ordering online!
Reviews Sourced from Lovingly
You May Also Like
---