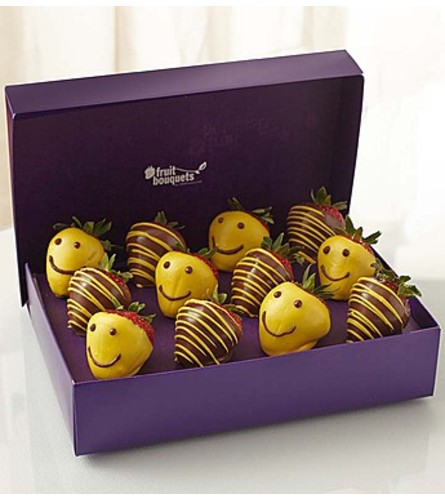 's Perfect Bouquet
Strawberry Smiles™
---
Description
---
What's the fastest way to make someone smile? You're looking at it! A dozen scrumptious, dipped strawberries flash festive grins to put the happy in someone's day—for a special celebration or no particular reason at all.
12 fresh strawberries; six dipped in milk chocolaty confection and drizzled with yellow-dyed confection, six dipped in yellow chocolaty confection and decorated with milk chocolaty confection to display smiley faces
Product ID 143624
Approximately
What People Are Saying
---
AWESOME PLACE AND SERVICE AS USUAL!!!!!
Flowers were beautiful delivered as promised - very happy.
Lovely flowers, super fast delivery. Thank you
Reviews Sourced from Lovingly
You May Also Like
---