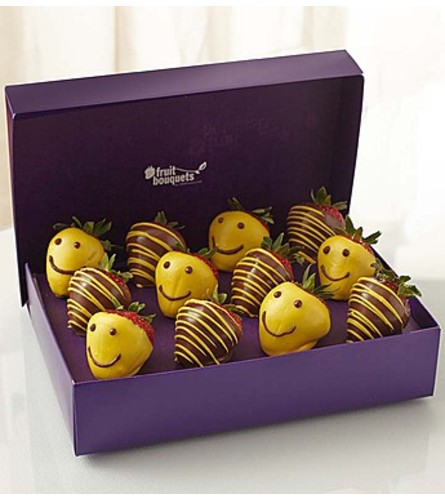 's Perfect Bouquet
Strawberry Smiles™
---
Description
---
What's the fastest way to make someone smile? You're looking at it! A dozen scrumptious, dipped strawberries flash festive grins to put the happy in someone's day—for a special celebration or no particular reason at all.
12 fresh strawberries; six dipped in milk chocolaty confection and drizzled with yellow-dyed confection, six dipped in yellow chocolaty confection and decorated with milk chocolaty confection to display smiley faces
Product ID 143624
Approximately
What People Are Saying
---
The flowers delivered were not what I ordered nor expected.
LOVE EVERYTHING ABOUT THIS PLACE! ❤
I ordered last minute for my friend at like 3 pm and she still got it that same day! Thank you sooo much! It was so pretty and she loved them! And said the chocolates were amazing!
Reviews Sourced from Lovingly
You May Also Like
---