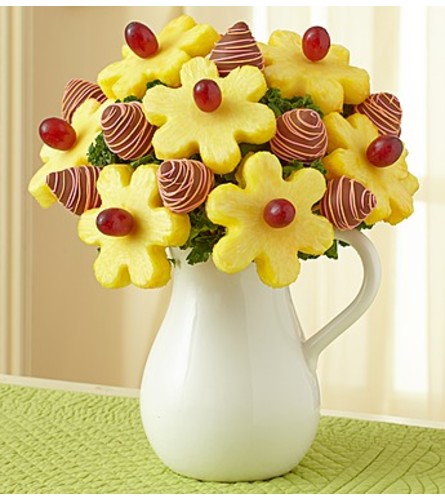 's Perfect Bouquet
Mom's Sweetest Daisies™
---
Description
---
Serve up the sweetest Mother's Day smiles! This fresh and fruity creation is loaded with delightful daisy-shaped pineapples and your pick of plump, juicy strawberries, or delicious dipped and drizzled strawberries. Whichever one Mom loves best, you can be sure she'll love that it came from you.
Fresh fruit arrangement includes daisy-shaped pineapple slices with grape centers. Allergy Warning: Fruit Bouquets products may contain peanuts and/or tree nuts. We recommend that you take the necessary precautions based on any related allergies.
Product ID 10738L
Approximately 12"H x 9"D
What People Are Saying
---
Nancy Ojeda
April 15, 2021
I received the most beautiful arrangement as a gift yesterday. Just perfect! I have dealt with the owners numerous times and they are always professional and oh so kind. Good, good people!
The flowers delivered were not what I ordered nor expected.
LOVE EVERYTHING ABOUT THIS PLACE! ❤
Reviews Sourced from Google and Lovingly
You May Also Like
---