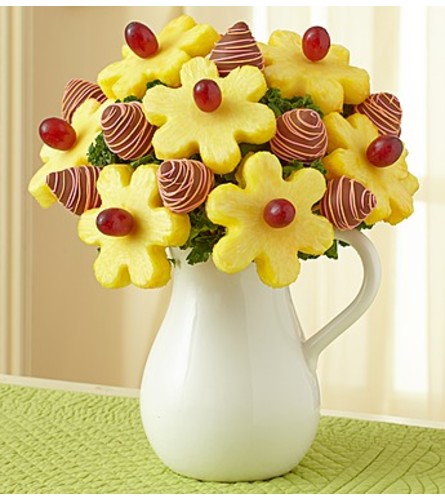 's Perfect Bouquet
Mom's Sweetest Daisies™
---
Description
---
Serve up the sweetest Mother's Day smiles! This fresh and fruity creation is loaded with delightful daisy-shaped pineapples and your pick of plump, juicy strawberries, or delicious dipped and drizzled strawberries. Whichever one Mom loves best, you can be sure she'll love that it came from you.
Fresh fruit arrangement includes daisy-shaped pineapple slices with grape centers. Allergy Warning: Fruit Bouquets products may contain peanuts and/or tree nuts. We recommend that you take the necessary precautions based on any related allergies.
Product ID 10738L
Approximately 12"H x 9"D
What People Are Saying
---
My Mom's birthday flowers were so beautiful. She loves them. The bouquet is so much more nicer than your typical online box shop. I HIGHLY recommend using Garden of Eden for your next floral order.
First time customer and I am well satisfied. The flowers and accessories were top notch, and the online ordering experience was easy to complete. I recommend Garden of Eden highly, and will use them again myself.
Same day delivery! No problem with ordering online!
Reviews Sourced from Lovingly
You May Also Like
---