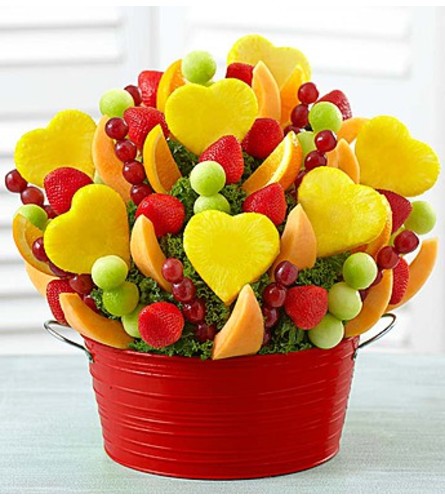 This product is currently out of stock.
Description
---
More to share, more to love! This abundant fruit arrangement is brimming with plump strawberries, dipped pineapple hearts, mouthwatering melon, juicy grapes, oranges and more. Surprise your Valentine… or share it with all the sweet people in your life! Fresh fruit arrangement includes strawberries and mini heart-shaped pineapples dipped in chocolaty confections; plain strawberries; honeydew ball & grape skewers; cantaloupe and orange wedges. All of our dipped fruit is covered in delicious chocolaty confections. Allergy Warning: Fruit Bouquets products may contain peanuts and/or tree nuts. We recommend that you take the necessary precautions based on any related allergies.
Product ID 142145S
Approximately 15"H x 15"L
What People Are Saying
---
Chantel
February 24, 2021
Was not happy, 2 roses were broken off. The arrangement as a whole was unprofessional, I understand it was close to Valentines Day, but I also did not order last minute. Would probably not use them agree.
Sumary Khath
February 25, 2021
Very beautiful inside. Its definitely a hidden gem! Everything is reasonably priced, and great service. They also sell flora and some knick knacks such as jewelry, home decor etc...give this place a try when you want a light lunch and some yummy bakery
Amazing so I decide to order flowers a day before Valentine's and seen this amazing selection of flowers. My girls color is purple so it work out for me. She received them and loved them Thank you to the people working at Garden of Eden they made it easy convenient and an easy task.
Reviews Sourced from Lovingly and Google
You May Also Like
---